🌏 #4 | Big tech is investing heavily in generative AI startups
Even before Microsoft invested $10 billion in OpenAI in January, it was clear that big tech would play an influential role in AI — long considered the potential "next big thing."
For over a decade, big tech — particularly Google and Microsoft — have been luring the world's top AI researchers away from the ivory tower and into Silicon Valley.
You could say Microsoft's investment into OpenAI was their "hold my beer" moment to try and one up Google's $650 million acquisition of DeepMind in 2014.
📊 Corporate VC in the generative AI era
Big tech will shape every aspect of the generative AI value chain, from training foundational models to building supercomputers to developing applications.
One emerging trend of particular interest is that big tech is heavily investing in generative AI startups.
Based on an analysis of Crunchbase data, more than half of the funding raised by the six largest generative AI startups occurred through investment rounds that involved big tech corporate VCs, either as a single investor or investing alongside traditional VCs like Greylock and Spark Capital.
While corporate VC isn't new, the extent to which companies like Microsoft, Google and Salesforce are appearing on the cap tables of the most promising AI startups seems different to the growth story of the Airbnbs and Ubers of the last tech wave.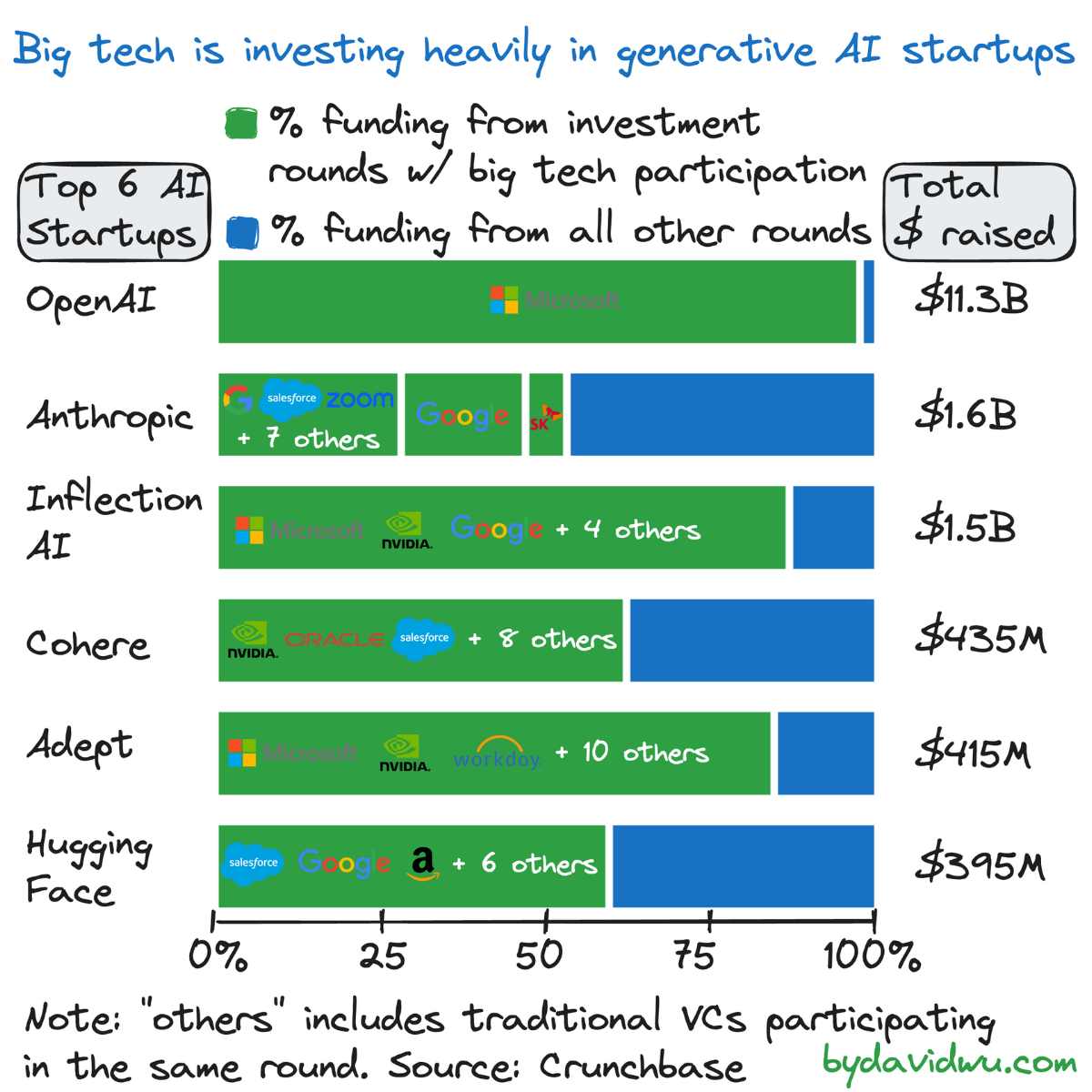 🧐 A caveat on methodology
This analysis is limited by the convention of investment round announcements highlighting the total amount raised and investors involved — but not the amounts invested by each investor. So, we can't pinpoint the exact contribution of big tech investment.
🌐 What are the implications for the tech ecosystem?
📌 Benefits
Computing resources are a major bottleneck for AI model development and deployment. Much of the benefit from corporate VC investment will occur through big tech providing access to key computing resources such as GPUs via their cloud platforms.
In addition, investment paves the way for closer partnerships between big tech and generative AI startups. Startups will more readily be able to both offer access to their models through dominant cloud platforms and integrate their models' capabilities into the product suites of big tech companies.
With big tech leading the way on AI safety, startup investment will also help uplift safety standards in the industry.
📌 Risks
On the flip side, with GPUs in short supply, there's the risk that big tech could provide preferential computing resource access to their own teams and companies they are invested in ahead of other startups using their cloud platforms.
If startup investment enables big tech to more quickly integrate state-of-the-art AI models into their own offerings, there is also the risk that this could entrench the dominance of big tech's product and cloud offerings in the next tech wave.
---
🙌 If you enjoyed this week's newsletter, consider liking the LinkedIn post for this piece. I really appreciate your support in helping this newsletter reach a wider readership.
✨ Did you spot a typo or think of a topic you'd like to read about? Hit reply and let me know.
📨 To ensure this newsletter doesn't go into your spam folder, add me to your contacts.