🌏 #3 | Australia can't throw away it's shot in the generative AI era
🌊 Tech waves in Australia
Australian startups have been catching tech waves since the Internet expanded beyond the purview of government research labs in the early 1990s.
In the 1990s, tech companies REA Group (founded in 1995), Carsales (1997) and SEEK (1997) caught the wave of classifieds going online.
In the 2000s, Atlassian (2002) rode the wave caused by the merging of new ways of working (agile practices) and new software business models (software as a service).
In the 2010s, Canva (2012) surfed the wave formed by new workers of the social media era — content creators, influencers and social media marketers — demanding new tools.
In the 2020s, generative AI is emerging as the tech sector's Nazaré, a Portugese town known for record-breaking waves. This is Australia's chance to catch the big one.
🇦🇺 Generative AI: Australia's chance to catch the big one
How big exactly of an opportunity is generative AI for Australia?
We can gain some insight from research by the Tech Council of Australia and Microsoft published in a report last month, Australia's Generative AI Opportunity.
In the report, they model three different scenarios based on the speed of generative AI adoption by businesses and workers in the Australian economy.
They estimate that in a fast-paced adoption scenario, generative AI will add $115 billion annually to the Australian economy by 2030. In the medium-paced adoption case, they estimate this figure to be $75 billion. The figure in the slow-paced adoption scenario is $45 billion.
Surprisingly, they find that only 10% of the value creation will occur through new products and services. Productivity gains in existing industries — automation leading to more time spent on higher-value activities — are expected to drive 70% of the value creation. The remaining 20% will be driven by the AI "copiloting" of existing work leading to quality gains.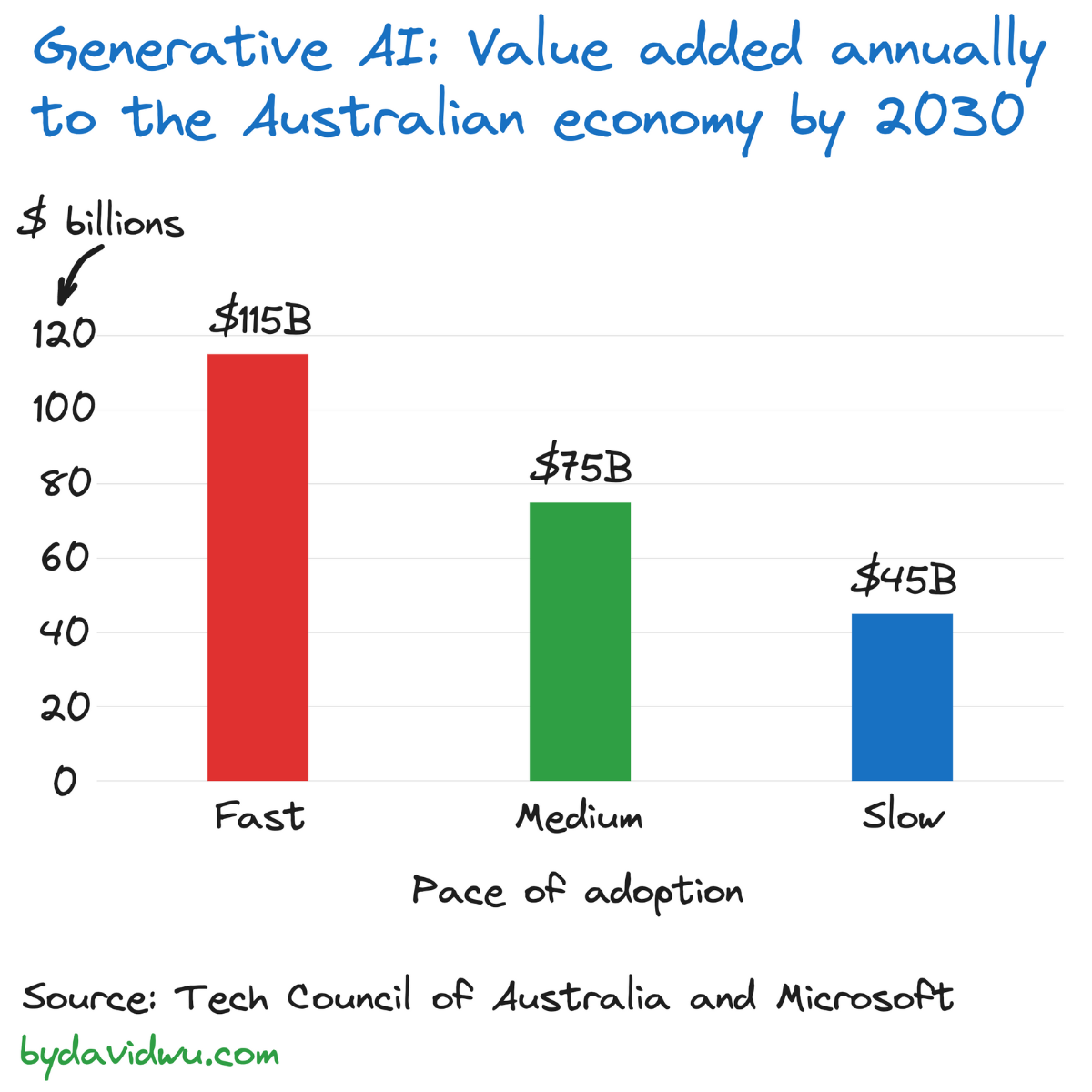 ✨ Australia can't throw away it's shot
Generative AI, like new waves of technology before it, brings with it a new frontier of possibilities. For Australia, the window of opportunity is wide open.
📌 There's the opportunity for Australia's tech sector to produce the next generation of Atlassians and Canvas. Even a single runaway success would create 1000s of jobs and take Australia's tech sector to the next level.
📌 There's the opportunity for Australian organisations and workers to be at the forefront of technological adoption. From workplaces to schools, organisations and workers should be supported to experiment with new generative AI technologies.
📌 There's the opportunity for Australia to be a global leader in responsible AI. Policymakers have the opportunity to move early in setting Australia up for success globally in the generative AI era and setting an example for other countries to follow.
---
🙌 If you enjoyed this week's newsletter, consider liking the LinkedIn post for this piece. I really appreciate your support in helping this newsletter reach a wider readership.
✨ Did you spot a typo or think of a topic you'd like to read about? Hit reply and let me know.
📨 To ensure this newsletter doesn't go into your spam folder, add me to your contacts.